Michael Hassø Larsen has joined Flügger as Chief Supply Chain Officer
Michael Hassø Larsen has joined Flügger as Chief Supply Chain Officer on December 1st. He has an educational background as Production Engineer from Odense Teknikum and 17 years of experience within sales, production and supply chain management.
With Michael Hassø Larsen on board, all seats in the Flügger Senior Leadership Team are now fully occupied. During the course of his career, Michael Hassø Larsen has worked for furniture manufacturer Bodilsen A/S, Arriva, Gumlink, and the Swedish kitchen manufacturer Nobia, where he has multiple times navigated companies from one starting point to another. Either as a result of crises, or a desire to position the company in a new way - but each time with a focus on optimising and improving the existing processes and procedures along the way. "We're excited that Michael now joins our Senior Leadership Team in Flügger," says CEO Peter Røpke. "With his vast experience in the field of production and supply chain, we stand strong when it comes to optimising and strengthening the supply chain in Flügger even further".
Getting practical
At Flügger, Michael Hassø Larsen expects to spend quite some time away from his office desk – instead he plans to spend time at the company's production facilities in Kolding, Denmark and Bollebygd, Sweden. "It is important for me to be visible in the 'field'", he says. "I like to involve myself in practical tasks, otherwise I believe that there is a risk of losing some touch," says Michael Hassø Larsen.
Mental training
Since 2001 Michael has lived with his wife and two children, aged 8 and 15, in the Danish city of Vejle. They have recently initiated an expansion of the family's house. This is a project that requires a vast amount of planning and coordination, and it offers challenges that Michael like to solve in the course of a run: "Running is mental training for me. I love to process problems and dilemmas while running, it challenges me," says Michael Hassø Larsen.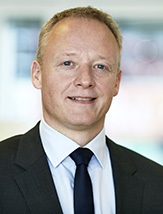 Michael Hassø Larsen