Colorful partnership to spread positive message
"When we choose a commercial partner, it's because we know that our values are reflected in theirs, and that they can and will help us share them with the rest of society," says Copenhagen Pride, which has extended its collaboration with Flügger as a main partner for this year's Pride event.
When Copenhagen Pride stages this year's event, the streets of Copenhagen will be thronged with people in festive spirits celebrating diversity, respect and life. The streets are full of music, dance, beautiful costumes and, not least, all the colors under the rainbow – colors that can have widely different meanings and values for all those participating. The paint group Flügger is participating again this year as one of four so-called 'main partners', and who – through its colorful contribution – is participating in the festivities and thus helping to spread Copenhagen Pride's message nationwide.
"Flügger has always been a company which has its feet firmly planted on the ground combined with a high degree of openness. At Copenhagen Pride, we have found a partner that builds bridges to our diversity policy. It is the freedom to be who you are, to respect each other, and to appreciate differences and colorfulness. It's an important mission in general, and it's also important in our daily lives in connection with running our business and collaborating with a wide variety of people," says Flügger CEO Sune Schnack.
An opportunity to reach out to even more
For Copenhagen Pride, every single commercial partner represents far more than just a financial contribution – it is also a golden opportunity to reach a much larger audience and create year-round awareness, according to Copenhagen Pride's head of secretariat, Steve Taylor.
"Basically, our commercial partnerships help make the entire event possible and free of charge for anyone who wants to participate. But just as importantly, our partners and their customers are helping to mainstream and spread word about our LGBTI+ cause when sharing the message in their stores and on social media," says Steve Taylor.
Flügger is greatly looking forward to spreading the diversity message via its social media as well as in its 146 Danish stores.
"During Pride week, the LGBTI+ community must be given the voice and space it needs. We support the mission and the joyfulness that comes from celebrating diversity with color. We are doing so through our sponsorship, through collaborating with other brands and, not least, by inviting employees, business partners and customers to join in," says Sune Schnack.
Spectacular opening show creates works of art for donation
The highpoint of Copenhagen Pride Week is always the parade at the end of the week. This year, Flügger, together with the e-bike manufacturer MATE, has created another highpoint with an opening show on Saturday, 13 August, at which a very special dance show and storytelling will kick off the festivities with an explosion of color. The stars of the show are the dancers Yaqub Abdirahman and Bax, who in their own way will portray their narratives about the freedom to express one's identity through the transgender community and the Ballroom scene, respectively. The show will result in colorful artworks and a MATE.bike which will be donated to the audience or selected exhibitors who will continue to disseminate the message.
This year's Copenhagen Pride is taking place in the capital on 13-21 August 2022. A complete programme for Copenhagen Pride Week can be found at www.copenhagenpride.dk.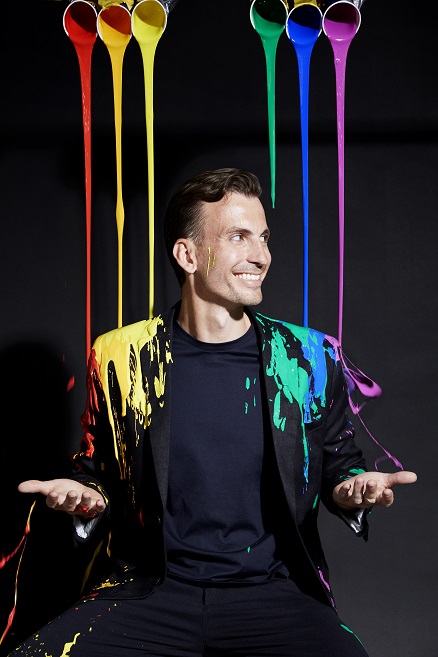 Flügger CEO, Sune Schnack