Flügger disburses NOK 400,000 to local sports clubs
In January, Flügger Andelen disburses the money that has accumulated throughout the previous year. The charitable concept gives a 20 per cent discount to members of participating sports clubs, at the same time as making cash contributions to the actual clubs.
A wide range of Norwegian sports clubs and sporting associations start looking forward to buying new footballs, goal nets or finally giving their changing rooms a lick of paint at this time of year. This is because the nationwide Flügger Andelen – The Flügger Share – concept disburses money in January, with more than NOK 400,000 being paid out this year to the clubs which are registered with the scheme. Since establishing Flügger Andelen in August 2017, members of the participating clubs have been able to buy all Flügger products at an attractive 20 per cent discount. At the same time, the clubs receive 5 per cent of the members' purchases every year.
– The idea for Flügger Andelen is based on the high regard that Norwegians have for their sports clubs. We asked ourselves how we could bring together everyone who was involved in some way with the clubs, and came up with the idea of giving them a discount combined with the chance to support their club. So, the more members that mention their clubs when shopping at Flügger, the more money the club receives, says Steffen Eide, a sales manager at Flügger and the man behind Flügger Andelen.
Voluntary approach works
Neither the clubs nor their members have to commit themselves in any way when they become part of Flügger Andelen. And the concept's success can be ascribed to this voluntary approach, says head of Flügger in Norway, Rolf Gjølberg:
– We're proud to be making a real difference out in the sports clubs, which many people frequent several times a week. In the clubs, they can buy new equipment, the members enjoy a discount, and Flügger will hopefully see higher footfalls in its shops. It's win, win, win, says Rolf Gjølberg.
With more than 7,000 sports clubs in Norway, the potential is huge, and Steffen Eide hopes to involve 1,000 affiliated clubs within a year.
– We're contacting the clubs and introducing them to Flügger Andelen, but it's wonderful that the idea is largely being spread by word of mouth. New clubs are joining every week, after having heard about the concept from members who belong to other clubs and associations, explains Steffen Eide.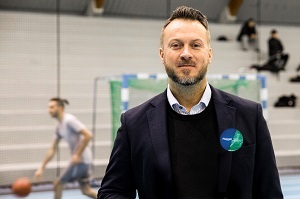 Sales Representative Steffen Eide