Rebekka, 21: "I always knew I wanted to be a painter"
Professional painters and decorators are no longer necessarily men. Women are making inroads into the trade. We met Rebekka, 21, who loves her job, her spattered workwear and the trade in general.
If you are a painter, it means that you have to get up early, and that you are always busy. However, this was no deterrent for Rebekka Guldbrand Vedstesen. She learned about long working hours and painting and decorating from an early age – her father is a self-employed tradesmen, and Rebekka's mother and one set of grandparents are all painters and decorators.
Consequently, since her early teens, Rebekka has spent countless holidays with her grandparents in their painting and decorating business, and watched her mother don the familiar white overalls for the past 22 years. Today, both Rebekka and her mother work for Malermester Kurt Skovdal, a firm of painters and decorators near Varde in south-west Jutland, and they are often sent out on jobs together – which Rebekka thinks is "really nice".
Always on the go
According to Rebekka, it was always in the cards that she would be a painter: "I just fell for it immediately. I really enjoy being busy the whole time, and that you are able to make things look much nicer than they were before – I soon found that fascinating," says Rebekka, while mentioning that she would never be suited for an office job. "I love being active all day. I think it's wonderful always being on the go, and as I do quite a lot of fitness training, I never suffer from backaches or sore shoulders. I would never be able to spend a whole day sitting down."
No longer a male-dominated trade
Rebekka's choice of job is no longer unusual for women. The painters' and decorators' trade has shed its male-dominated image and girls with a sense for detail and a high degree of perfectionism are making their mark. Rebekka has just completed the first main part of her course studies, where nine out of thirteen students were girls, and Rebekka's boss Kurt Skovdal has also only ever had female apprentices. In May 2016, Rebekka won the Painter of the Year title at Denmark's Danish National Championship in Skills, where the best talents within 36 vocational courses compete, and here all the competitors were women. "It's definitely not a male-dominated profession any longer," says Rebekka. "Being a painter demands close attention to detail and involves improving the aesthetics of a building, and then you need to be a perfectionist – and perhaps this appeals to us girls more than boys."
Being a perfectionist in particular is definitely something that Rebekka prides herself on: "Yes, I am a perfectionist. Everything I do I like to do well. There is nothing more satisfying than completing a job where the customer is thrilled with what you have done. The fact that people appreciate what I do so much is one of the best things about being a painter and decorator."
There's more to it than just painting walls
Even though there are now a lot of women in the painting and decorating business, Rebekka still meets people who are surprised at her choice of career: "Some people think that it's boring, and say 'Well, all it involves is painting walls.' But that's not the case at all, of course. You're kept on your feet, the work is varied, so it's not in any way boring. I think, on the other hand, that office work must be dull," says Rebekka, who has some good advice for young people who are thinking of training as a painter and decorator: "Go for it!"
1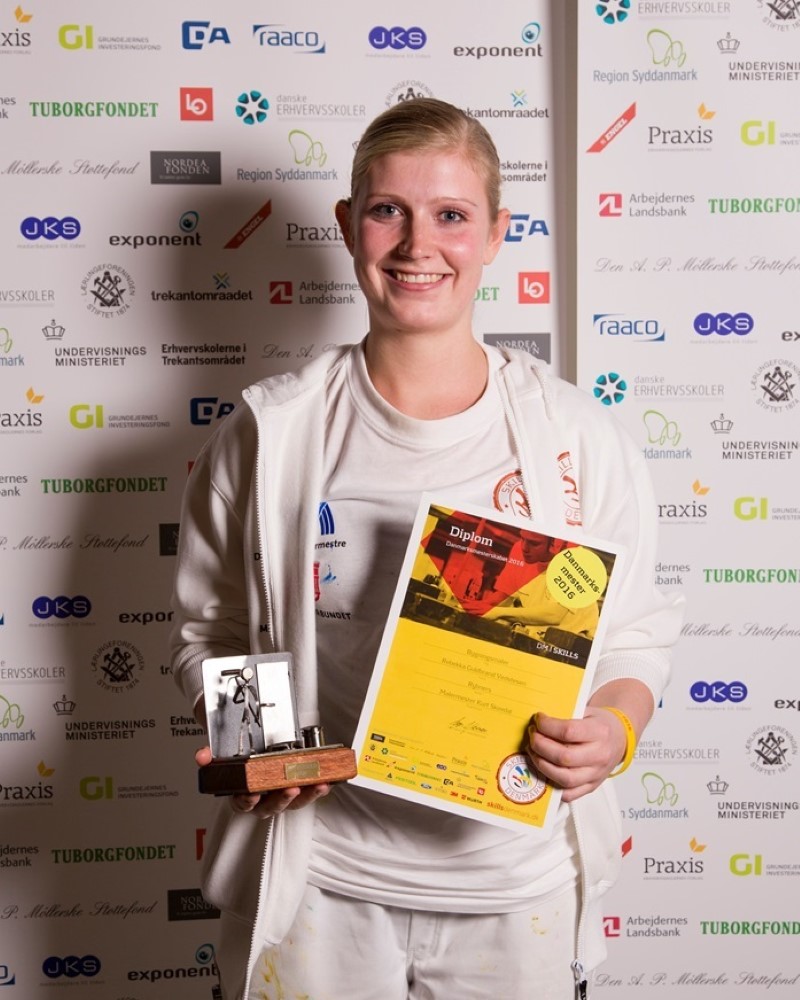 2